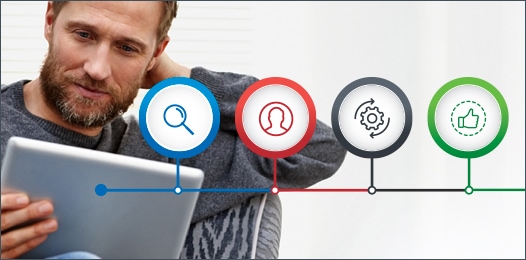 Understanding the Mutual Pains of Players and Operators at Account Setup & Digital Identity Verification
Consider these stats from our recent research with online players and leading EU-based gambling operators.
25% of online gambling customers have abandoned the account opening process because the process was too long or too complicated.
40% of respondents say opening an account takes at least 10 minutes and, for 10% of respondents, the process takes more than one hour.
Given the ease of switching to alternative betting sites, these stats are especially concerning.
These are just a few of the insights we gleaned from a two-part study that we commissioned to better understand the expectations and frustrations of players and gaming operators. For the first part, we conducted an online customer survey with over 2,100 online gaming players living in the UK, Ireland, Italy, Spain, and Sweden. The survey was conducted by Harris Interactive in October 2017 and aimed to get a pulse of their onboarding pain points, use of devices (mobile vs. desktop), and online gambling habits.
The second part was a qualitative study performed with gaming operators. Together with iGaming Business, we conducted in-depth telephone interviews with 19 online gambling executives, representing 8 of the top 50 global gaming companies from the 2017 EGR Top 50 rankings. We asked these operators many of the same questions about customer onboarding and player pain points searching for potential disconnects.
The results of this analysis have been synthesized in our new eBook, The Balancing Act of Account Opening in the Online Gaming Industry, which highlights that, while online gambling operators understand that their customers expect a smooth, swift user experience and strong security measures, they are still failing to deliver on these often-conflicting criteria when onboarding new customers, particularly via mobile devices.
Specifically, the report reveals four key opportunities for operators to deliver a positive customer experience and streamline account opening across device types, while maintaining operational efficiency and adhering to strict KYC/AML compliance mandates:
1. Customers are won and lost in the account opening and deposit processes.
Operators acknowledge that customers are won and lost in the account opening and deposit processes. However, the study reveals that one in five online gaming customers would spend more time gambling online if the sign-up process were less complicated and took less time, suggesting there's significant room for improvement.
2. Mobile onboarding presents a sizable opportunity for gaming companies to win new customers.
Mobile onboarding presents a sizable, yet often missed, opportunity for gaming companies to win new customers. 39% of respondents preferred to play via an app on their tablet or mobile, yet of those who prefer to gamble via this channel, 29% are often discouraged from playing by a lengthy sign-up process.
3. Identity verification is a critical turning point in the onboarding process.
Swift, secure identity verification is a critical aspect of the onboarding process. 67% of respondents stated that a gaming operator's ability to positively identify its customers is as important as providing security from hackers and having a solid privacy policy.
As noted, our survey tells us that for more than 4 in 10, opening an account takes at least 10 minutes and, for 1 in 10 respondents, more than 1 hour. Although this length of time might appear reasonable, the reality is that many players expect to complete the registration process in just a few minutes.
From the player surveys, 67% of respondents stated that an operator's ability to positively identify its customers is as important as providing security from hackers and having a solid privacy policy. But, customers don't want to be put through time-consuming processes to achieve this level of identity assurance.
When you combine these customer expectations with increasing security and compliance mandates, it is clear that gaming operators must look for ways to streamline the identity verification process to get good customers playing sooner."
4. Gaming operators are looking to the banking industry for what's to come.
Gaming operators are looking to the banking industry for what's to come. As one leading operator explained, "Regulators are becoming more and more strict, especially with the fourth AML (directive) coming into place. I do think (following AML/KYC and GDPR regulatory requirements) that this is something the gaming industry will have to follow as well."
The online gaming/gambling industry is on the cusp of an evolution where exceptional player experiences blend with operational efficiency, security, and compliance to create an arena where customers and operators can succeed.
The next steps rest clearly with the operators. But, simply streamlining the customer onboarding and online verification processes can clearly pay big dividends in terms of lessening abandonment, while also keeping the riff raff out and ticking the necessary AML and KYC checkboxes.
To get a copy of the report, we encourage you to download a copy of the report at http://go.jumio.com/online-gaming-report.